Kitchen TVs
Cabinet Door TV
Our TVs installed into kitchen cabinet doors have an exceptional characteristic – they do not occupy space. Such Full HD TV is installed instead of cabinet doors of standard sizes and functions as a door with a default fixation mechanism, which provides complete access to the shelves. The TV may be installed using Blum and Kessebohmer lift up systems that can be found in retail stores all over the world (read the technical characteristics of the TV to choose the compatible hinges).
WATERPROOF
TV
WATERPROOF
REMOTE
CONTROL
VIBRATION
SPEAKERS
SMART TV

EASY TO
WASH
FULL HD IPS
LED
DIGITAL TV
SYSTEM
2 YEAR
WARRANTY
KITCHEN DOOR TVS OF SMALL SIZE
Our built-in TVs design
The front finishing of our TVs can be the following: Black Frame, White Frame and Magic Mirror glass. The first two types of finishing are universally applicable and will be a good solution for most kitchen designs. If you want to add magic to your kitchen, you can choose Magic Mirror glass type, but it's better not to integrate this type of front finishing in front of windows or in well-lit kitchens, because this screen type has reduced screen intensity resulting from semi-translucent mirror covering the screen.
All our Kitchen Door TVs are produced using hardened glass, and any kind of mud can be easily removed.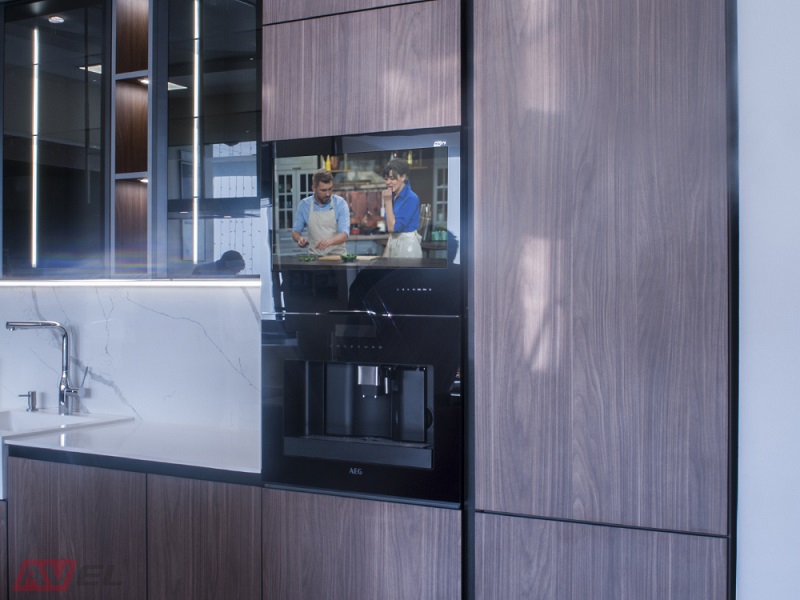 Kitchen wall TV: what size should it be of?
A usual kitchen wall TV size varies from 20" to 40". But if your kitchen is spacious and can function as a living room, a bigger TV size can be installed taking into account the distance between the TV and the table: it's recommended not to sit too close to the screen. This can smear the image and negatively affect the eyesight.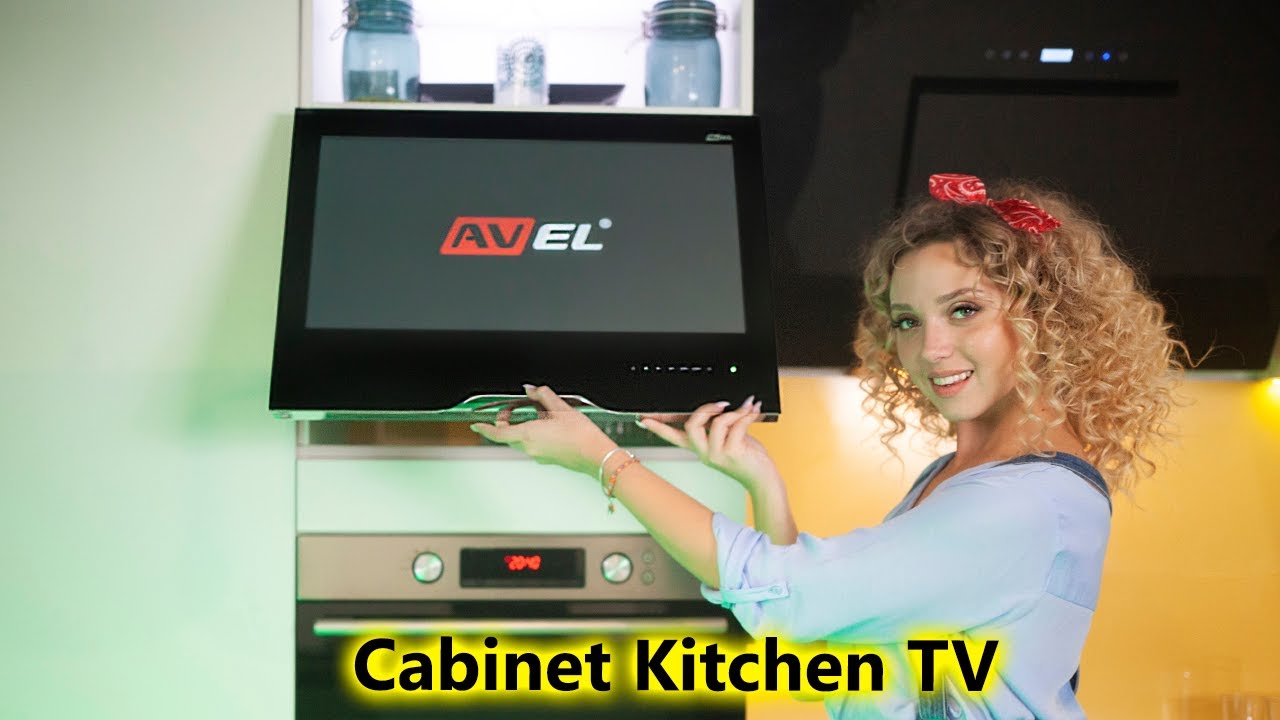 Unified dimensions for all integrated cooking facilities
Kitchen Door TV of our production can be of two sizes – the default one of 455x600mm and a smaller one (382х600mm), both with a 23.8-inch screen. These sizes are the most widespread among all integrated kitchen appliances, and it's very easy for kitchen furniture manufacturers to create a design that will be compatible with our TVs dimensions and suitable for integration of other kitchen appliances.
In addition, last year we introduced a new TV model. It has a 32-inch screen and has a size of 756x514mm.
Touch Screen TVs with Wi-Fi support for kitchen
Our company is the first one to present a kitchen door TV equipped with a capacitive touch screen on Android's system. The touch screen size is 23.8 inches. This TV has access to Wi-Fi and all applications available on Google Play Market. It can also be connected to Bluetooth earphones and other compatible devices. This is an exceptional product designed especially for those people who pass much time cooking and have a need for a large capacitive touch screen (for example, to search for recipes, watch entertaining programs or work without distracting from cooking). Such TV can also be configured as a control system "smart home".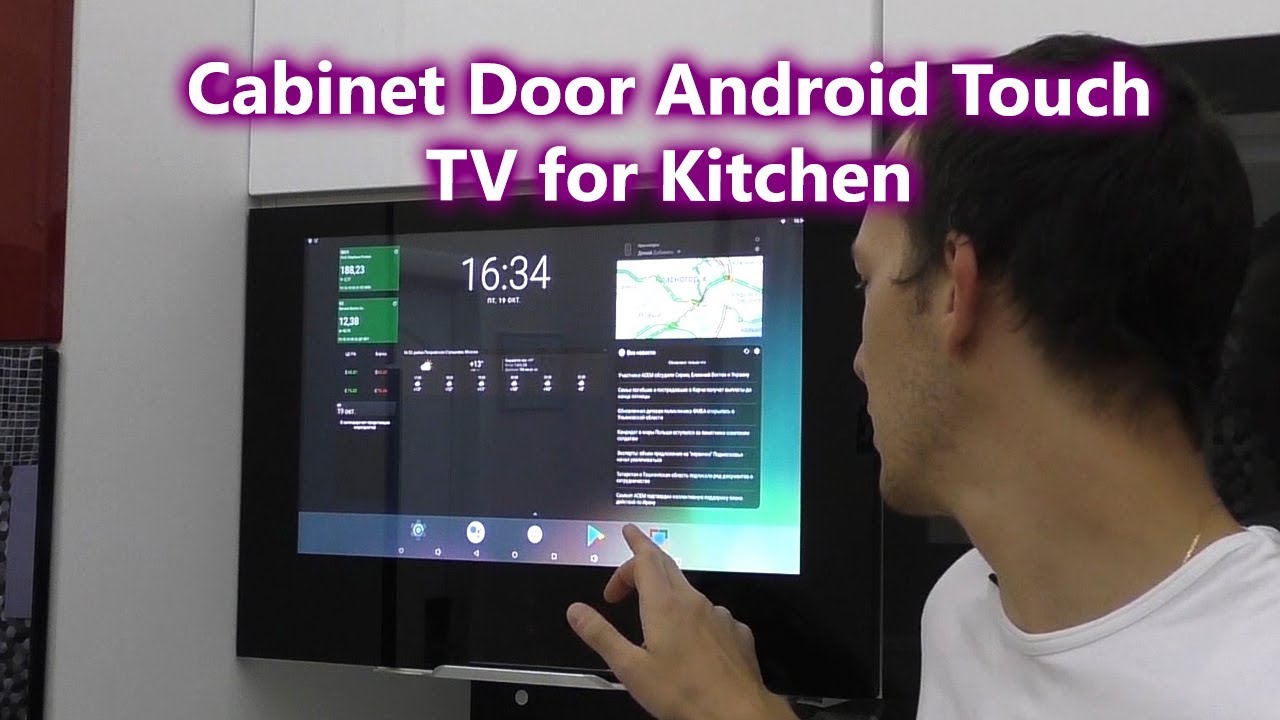 Water-resistant TV
Cabinet door TVs produced by our company easily repel water and other fluids, which makes the cleaning process to be a piece of cake. This feature allows you to install our TV above an oven or stove without fear of spoiling its surface.
All our TVs are bundled with water-resistant IR remote controls to make your experience easy going.